Drams, Dungeons & Dragons
This is about the essence of riding a motorbike: Experience the best of England, Scotland and Wales with like-minded people, sharing the pure joy of travelling on two wheels.
Experience the beauty of Great Britain
Discover the landscapes, cities and culture on an 11-day motorbike tour
From castles to cathedrals, national parks to idyllic villages, the Drams, Dungeons and Dragons tour takes in the best of the UK, seen from some of its most enjoyable and iconic motorcycle routes. Starting near London, and finishing in Edinburgh, the daily program offers a mix of relaxed rides and selected activities to dive into the culture and history of each region over the 9-day tour.
---
This is what is waiting for you
Explore the UK on two wheels
Starting in the south of England, we'll take in the idyllic countryside scenes, stopping in unmissable historic locations, before heading west into Wales and north, onto the dramatic landscapes of Scotland, where we'll finish in the city of Edinburgh. Packed with must-see locations and hidden gems, our hand-picked routes are a motorcyclist's dream!
No stress, just arrive and ride!
An all-inclusive tour, packed with spectacular riding routes that take in the dramatic landscapes and rich history that these countries have to offer – you simply arrive at the tour start and we take care of the rest. From the BMW Motorcycle, fuel and tour support, to classic dining and first rate accommodation, this tour is the perfect escape from a busy schedule.
BMW Motorrad-certified tour guides and expert support
You are in safe hands with our BMW Motorrad-certifies Tour Guides and expert support team. Meticulously planned routes and stops capture the beauty of each location, as best seen on two wheels. Detailed pre-tour information packs are provided, for those who like to prepare, and our team are on hand throughout the tour, to ensure you can enjoy the sights hassle-free. 
Services included
Pre tour pack including tour information, Michelin maps, route notes and GPS routes in Garmin/BMW format
Electronic copy of the World of BMW Touring Essentials Book
All accommodation as listed in the itinerary in 3/ 4 star hotels
All breakfasts
All lunches
Dinner on all nights (excludes alcoholic beverages)
Ferry crossing to Windemere and across Holy Loch to Dunoon
Walking tours in Oxford and York
Fuel for your bike or hire bike while on tour
Motorrad Tours tour leader throughout the tour
Motorrad Tours support vehicle to carry luggage
Expert advice and support throughout
Commemorative polo shirt for all riders (and passengers)
The protection of booking with a fully bonded tour operator
Alcoholic beverages, flights, and travel/cancellation insurance, as well as all services not listed above are not included.
Price overview
BMW Motorrad Motorcycles available to hire. Tour cost dependent on model chosen;
F 750 GS / F 850 GS / F 900 XR : 7015 € Solo Rider / 9035 € Rider & Passenger
R 1250 GS / R 1250 RT : 7225 € Solo Rider / 9245 € Rider & Passenger
K 1600 Grand America : 7425 € Solo Rider / 9445 € Rider & Passenger
---
Itinerary
Day 1
Arrive for our Tour Welcome dinner & hire bike collection. The first night will be in Farnborough. If arriving via air, we will arrange our driver to collect you for the short transfer from the London Heathrow/Gatwick airport options, arranged to suit your flight times.
Day 2
Our first day has a relatively relaxed route, to ease you into the tour. Starting with a classic full English breakfast, we'll begin with a ride towards the Winchester Cathedral. With fifteen centuries of English history in it's walls, there's plenty to discover. Next on the route is Stonehenge, perhaps the World's most famous prehistoric monument, before heading north for our night stop in Oxford.
Day 3
An off-bike day to relax or enjoy a walking tour of Oxford, famous the world over for its University and places of historical value – enjoy the 'City of Dreaming Spires' or take an optional local ride, the choice is yours.
Day 4
We'll start the day with a morning ride through the picturesque villages that make up the Cotswolds, before heading to Stratford-upon-Avon – the birthplace of William Shakespeare.
Day 5
Leaving England behind and heading across the border into Wales, with its spectacular landscapes inspiring centuries of myths & legends. Keep an eye out for stray dragons as we pass Tintern Abbey and Raglan Castle as we head toward the Brecon Beacons National Park.
Day 6
It's north along the dragon's spine on some of the best roads Wales has to offer this morning before heading back into England and onto Bakewell, our home for the night.
Day 7
Progressing further North, you'll ride the iconic 'Cat and Fiddle' pass to the Peak District then on to the ancient Roman town of York. Enjoy tea & cake in the famous local bakeries, or soak up the history with a visit to the gothic cathedral, York Minster.
Day 8

Lots to see today as we ride past the pretty towns and villages of the Yorkshire Dales and the Lake District National Park. Hill Top (Beatrix Potters House), Wray Castle, Kendal Mint Cake, we'll even cross Lake Windemere... on a ferry of course!
Day 9
Expect fantastic riding today as we cross the border and into Scotland. The high grounds of the Galloway Forest Park will provide spectacular views and a taste of things to come. We'll make our way to the tiny local ferry port, and make our crossing before arriving at our hotel, nestled on the shores of Loch Fyne.
Day 10
There's a few more dungeons to explore today as we ride via the dramatic Glen Coe and head for our final night in Edinburgh.
Day 11
You are free to depart for home from Edinburgh Airport.
Experience the best of England, Scotland and Wales
Frequently asked questions
Who can I contact if I have any questions?
The team of our operating partner Motorrad Tours will be happy to help you with any questions you may have about the tour. Simply get in touch with them using our request form or write an e-mail to: BMW@WorldofBMW.com
The Fuel For Life team will be happy to help you with any further questions you may have. You can reach us at: fuelforlife@bmw-motorrad.com
Will I be supplied with a BMW motorcycle?
Yes, you will make your BMW Model choice when booking the tour, and this will be waiting for you on arrival. You'll have the opportunity to familiarize yourself with your bike on the arrival day, so you're ready to make the most of every mile once we set off.
This will be supplied with panniers and inner liners, for you to carry any necessary items each day.
Are flights included in the price?
No – as the group joins us from across the globe, it is not possible. You must make your own arrangements to arrive at the tour start. However, we can advise you on when/where it is best to travel to help with this. Once you have booked these, we will arrange your airport transfers.
What health requirements do I have to fulfil for participation?
This is a wonderfully relaxed tour; however, riders should be reasonably fit and healthy, and comfortable with 1,5-2,5 hours riding at a time. Walking tours are included as part of the package, these have a gentle pace, and are suited to people of all ability/fitness levels.
Can I hire protective equipment?
Unfortunately, we are unable to provide this. All riders must supply their own protective riding equipment.
Is there a support vehicle for my luggage?
Yes – the Motorrad Tours support truck will be with us every step of the way, to carry luggage and to help in the event of an emergency.
We would recommend bringing soft travel bags instead of hard flight cases to ease this. All bikes are supplied with panniers and inner liners, so you can feel free to use these for the essentials each day.
Can I use my own motorcycle?
Yes, please contact us for more information on this. We don't offer this as standard as our clients often join us from across the globe, and don't have access to a motorcycle here in the UK, but we are happy to provide a quote on request.
What will the weather be like?
We try to travel when the weather will be good for motorcycling, May is usually a fine and dry time of year to travel to the UK, although you could expect a shower or two. If we could predict the weather with accuracy… well we would be millionaires! Always have waterproofs no matter what the forecast.
Do I have to ride with the Tour Leader?
No. We have a totally relaxed 'free ride' policy while on tour with no mandatory group riding.
Before you arrive, we provide you with route guidance notes, maps and GPS routes (in a BMW/Garmin format) so you are prepared.
While on tour, you are always welcome to ride with the Tour Leader who will set a leave time each day so you can join them. You can also opt to ride independently at your own pace, stopping to see what you want to see, when you want to. You can ride with the Tour Leader every day or swap and change what you want to do each day – the choice is yours.
Some days have elements where staying with the group will be beneficial (Ferry crossings, or timed entry to attractions, for example) however this is only a very small part of the tour as a whole.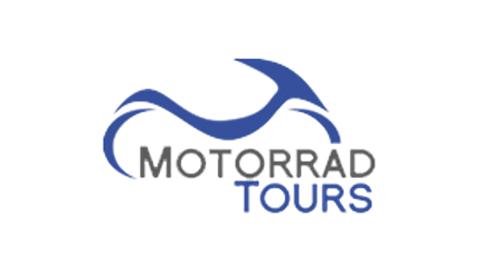 Organising partner
The tour is organised by the tour operator Motorrad Tours, approved travel partner to BMW Motorrad UK, and part of their comprehensive World of BMW experience programme. Motorrad Tours is provider of high-quality motorcycle tours with options from 4-21 days, destinations in UK, Europe and Worldwide. Hire bikes available on customer request, exclusive use of BMW Motorrad models.
Questions or feedback?
How can we help you?
How can we get in touch?
Please enter a valid email address.
*Mandatory
Thank you for getting in touch.
We will answer your message as soon as possible.