Enjoy the Netherlands off-road
Discover what the Netherlands has to offer for adventure riders
And experience a beautiful tour with the GS models
From the north to the south of the country. Enjoy the country in a new way by riding through different landscapes and on typical Dutch terrain. This trip shows the beautiful, off-road side of a small country. Our three-day tour is especially fun if you want to cover a lot of miles off-road and gain the experience you need. In addition, you can enjoy beautiful Dutch landscapes as you travel through the provinces off-road. Share the experience with a whole group of like-minded GS riders and learn to navigate waypoints and routes. During the three-day trip, you will ride all day and, in the evening, you will stay in a nice hotel. A real mini vacation!
---
This is what awaits you
The Dutch adventure ride
Our partner supports you on a three-day adventure ride on- and off-road through the countryside of the Netherlands. The trip spans the whole country from north to south, so you can experience the full range of off-roading the country has to offer. Small villages, prehistoric "hunebedden", unfrequented byways, forest roads and, of course, sandy stretches to test your riding skills. See if you have what it takes to ride off-road the Dutch way.
Riding alone, together
Navigate on your own using a GPS route and follow the road less travelled. Riding solo does not mean riding alone. Find yourself in the good company of other Dutch adventure GS riders on the route. You will experience the freedom of riding at your own pace and choosing when to take breaks but never be far from helping each other or enjoying a lunch together.
Peace of mind assured
You can enjoy the thrills of adventure riding while our partner takes care of well-organised and convenient planning. The BMW Motorrad-certified off-road instructors and tour guides will take care of good route planning and provide you with comfortable services like hotels, dinners, sweepers and optional motorcycle rental.
Services included
Three and a half days of support from BERRT
Three nights' accommodation
.gpx file with route and waypoints for three days
Catering with three breakfasts and three-course dinners
Sweeper bike on the route
Support vehicle for technical support and luggage transport
Beverages, airline tickets, transfers, cancellation insurance, and all services not listed above are not included.

 Additionally available options
Upgrade to single room: 135 €

BMW R 1250 GS rental: 645 € (pick-up and return in Apeldoorn)
BMW F 850 GS rental: 600 € (pick-up and return in Apeldoorn)
BMW F 750 GS rental: 600 € (pick-up and return in Apeldoorn)

---
Itinerary
Day 1
Welcome to the BERRT three-day tour. Our partner advises that you plan to arrive between 4 pm and 6 pm. Check in, settle in and join the welcome dinner at 7 pm followed by the briefing.
Day 2
Get ready for an early start. After breakfast, the first rider leaves at 8 am. You will enjoy the northern region with a 310 km ride. You will pass through De Hondsrug UNESCO Global Geopark with many prehistoric stone burial chambers, called Hunebedden. You will spend the night in a nice hotel in Rijssen.
Day 3
The group will leave early for the longest ride of the tour with 365 km. You will head east. You will experience Twente's beautiful countryside, and you will touch the border with Germany. Then you continue south to eventually pass the Rhine and Meuse Rivers. The last off-road stretch will bring you to a village called Deurne.
Day 4
The final day brings a ride through Limburg and Brabant. By now you have ridden most of the terrains the country has to offer. You can bundle this experience and put it to good use on the sandy routes in Brabant. Enjoy heather fields, forest and good off-road riding. High on memories and a little low on energy, you will conclude a long weekend of adventure riding in Hilvarenbeek. After a quick bite with our partner, it's time to say goodbye with the hope that you will see your new friends again soon.
Explore the Netherlands off-road
Frequently asked questions
How can I book a FUEL FOR LIFE experience?
If you are interested in one of our experiences or have any questions, don't hesitate to send a request now. If you click the button on the top right you will have the chance to see an overview of the offered services, select your desired options and send this information to our organising partner. The team will approach you shortly with an official offer that is customised for your preferences and they will be ready to answer all your questions.
Please note: the request for offer form does not represent a reserved booking. Booking takes place in the next step and is done between you and our partner directly.
Will I be supplied with a BMW motorcycle?
Our partner can equip you with a rental BMW motorcycle for the trip. This service is optional and not included in the tour fee. Please see optional goods and services.
Are flights included in the price?
No, flights and airport transfers are not included.
What health requirements do I have to fulfil for participation?
Participants are required to have general good health and be fit to partake in a three-day off-road tour.
Is the tour led by a guide?
The concept of this tour is to provide riders with the freedom to ride at their own pace and make their own decisions regarding stops and the length of the route/day. Therefore, a tour guide is not provided. A sweeper rider will be at the back for assistance if needed.
How do I get to and from the event?
You can plan your own trip coming to the event. If you are considering bringing your bike to the starting point by car or trailer, please take the following into consideration: the distance from the final location to the starting point is 260 km, or a three-hour ride by motorway.
Do I need off-road tyres?
Yes, off-road tyres are mandatory for your enjoyment and safety. The route may contain sand, mud and grass. Good off-road tyres greatly help you to enjoy the route in added safety and also at a suitable pace.
How will I receive the route?
The routes are e-mailed to the participants a few days before the ride starts. This is a .gpx file that contains tracks and waypoints. Riders are expected to be able to load this file onto their compatible GPS device.
What GPS device do I need?
The route is supplied in track format. Please make sure your GPS device is able to display an off-road track properly without converting it in any way. Suitable GPS devices are: BMW Navigator 5 or 6, Garmin XT, Garmin Tread or Garmin Montana. A TomTom device is not suitable. A rugged mobile device with a suitable app is also fine if the user is experienced in using it.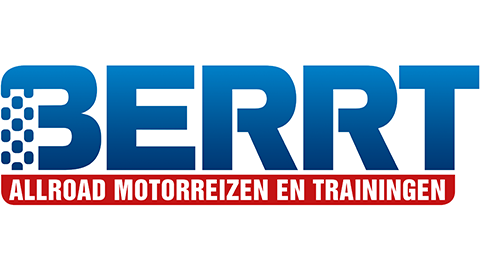 Organising partner
The off-road travel experience in the Netherlands is organised by our BMW Motorrad partner BERRT.
 
BERRT is the official BMW Motorrad partner in the Netherlands for off-road training and touring. Since 2010 BERRT offers riders high quality training and serves them with adventurous tours in the Netherlands and far beyond. BERRT is characterised by a personal approach and supports riders to outgrow their own expectations of what they are able to do on an adventure bike.
Questions or feedback?
How can we help you?
How can we get in touch?
Please enter a valid email address.
*Mandatory
Thank you for getting in touch.
We will answer your message as soon as possible.