The Great Getaway Thailand
Experience Thailand with the BMW R 18
Exciting motorcycle trip in Southeast Asia with the BMW R 18
Glamorous temples, golden Buddhas, welcome to the land of smiles
The three-day tour starts and ends in Chiang Mai. Chiang Mai is an ideal place for motorcycling because the city is located at the foot of the Himalayan Mountains. There are great climbs and slopes in every direction. The roads are in good condition, and outside the city you usually have the roads to yourself for the most part. If you like to ride the BMW R 18, our partner offers you an adventure for the senses! Along the border to Laos is the mighty Mekong River including the Golden Triangle, where Thailand, Myanmar, and Laos meet. In days long gone, it was a drug trafficking center, but now it is a sleepy port village. The south has beautiful sandy beaches as far as the eye can see.
---
This is what awaits you
Certified BMW Motorrad instructors
Certified BMW Motorrad instructors will accompany you throughout the tour. Get the opportunity to experience the uniqueness of Northern Thailand. The instructors have selected roads for you through areas of spectacular mountain beauty, some are even the best motorcycle routes in the world.
Highlights
Discover some of Thailand's famous sights with our partner, such as the limestone mountains of Chiang Dao and Chiang Rai. The trip along the Mekong River will also be breathtaking and the Golden Triangle will enchant you. You visit the traditional long-necked women the Kayan tribe is known for. A visit to the elephants will be a special experience. Before you ride back to Chiang Mai, you will stop at the White Temple.
SERVICES INCLUDED
Transfers between the airport, hotel and BIKE TOUR ASIA's Service Center in Chiang Mai on arrival and departure days

3 nights incl. breakfast at selected quality hotels and resorts with leisure facilities
3x lunch and 3x dinner
Water, soft drinks, coffee and tea during meals
Certified BMW Motorrad on-road instructor as tour guide (English speaking)

Tour description
Latest model BMW R 18 rental with unlimited mileage and fuel
Support vehicle
Transfer of luggage in the support vehicle
Technical support
Entrance fees to national parks, boat rides and other experiences
BMW R 18 Thailand Experience T-shirt and BIKE TOUR ASIA pannier bag
Motorcycle damage & loss coverage, see partner's "Terms & Conditions"
All services not listed above, including flights, alcoholic beverages, and meals on rest days (if any) are not included.

ADDITIONALLY AVAILABLE OPTIONS
Riding gear (helmet, jacket and gloves) can be rented at the Service Center. Pants and boots will not be provided. Our partner recommends bringing your own.
---
Itinerary
Day 1
Welcome to Chiang Mai, Thailand. Our partner will pick you up at Chiang Mai International Airport and take you by transfer bus to the centrally located hotel in Chiang Mai. Please try to arrive no later than 5:00 pm. Overnight at the hotel in Chiang Mai.
Day 2
Today you ride from Chiang Mai to Chiang Rai on the BMW R 18. You ride on paved roads with low traffic. The group leaves Chiang Mai in the morning and heads north to Chiang Dao. The first highlight with the BMW R 18 motorcycle will be crossing the mountain range, which is also a continental divide. You will have lunch and ride on to Thaton along the Kok River. Today's next highlight will be the beautiful view across the valley from Wat Thaton Chedi. The next stop will be the temple for about an hour before you ride to the hotel in Chiang Rai, which is close to the border with Laos and Myanmar (formerly Burma). You will end the day with an evening together with the group. Overnight in Chiang Rai.
Day 3
Today, your motorcycle tour takes you from Chiang Rai across the Golden Triangle and back to Chiang Rai. You will start after breakfast with a short motorcycle ride to the mighty Mekong at the legendary Golden Triangle, where the three borders of Thailand, Myanmar and Laos meet. Your viewpoint will be Wat Phrathat, from here, the Golden Triangle stretches out in front of you.
You will visit the opium museum in small groups. You leave the museum and continue to the boat dock on the Mekong. Here you can swap your BMW R 18 motorcycle for a boat and explore the river region. The group will meet again for lunch in a traditional Thai restaurant at the Golden Triangle. Now you ride back towards Chiang Rai. You will visit the elephant camp in Long Neck Village.
Day 4
On the last day you ride from Chiang Rai back to Chiang Mai. After a short ride you will visit the White Temple, Wat Rong Khung. Back on the motorbikes, you will follow the route to Chiang Mai. You have lunch at Doi Chang Coffee. Afterwards you will have a quick stop at Mae Kachan Hot Spring and marvel at the geyser. The route takes you back across the mountains, which is pure riding fun, especially on the BMW R 18!
You will arrive Chiang Mai at around 4:00 pm. Please plan your departure at 7:00 pm, at the earliest. Or just stay a few more days and enjoy Chiang Mai and its surroundings.
If you need help with accommodation and tours, or would like to use your BMW R 18 for a few more days, please let our partner know.
Explore Thailand with the BMW R 18
Frequently asked questions
How can I book a FUEL FOR LIFE experience?
Are you interested in a special experience? Then send your request via "SEND REQUEST NOW". You will find the button in the upper right corner. Now fill in your contact details.
In the following overview you can choose the options that suit you best from the offered services. Our executing partner will promptly provide you with an offer tailored to your wishes and will be happy to answer any further questions you may have.
Please note that your request to our partner is not a confirmed booking yet. The booking confirmation takes place in the next step directly between you and our partner.
Who do I contact if I have any questions?
The BIKE TOUR ASIA team will be happy to help you with any questions you may have about the tour. Simply get in touch with them using our request form.
The FUEL FOR LIFE team will be happy to help you with any further questions you may have. You can reach us at: fuelforlife@bmw-motorrad.com
Why should I ride the BMW R 18?
On this unique motorcycle tour, you are in the saddle of a completely different BMW motorcycle. Enjoy the exhilarating torque and rumble of BMW's largest boxer engine (1,800 cc), which powers the all-new BMW R 18 cruiser range.
Can I participate with my own motorcycle?
As part of the experience and the trip, our partner offers you the latest BMW R 18 model as a motorcycle rental, with unlimited mileage and unlimited fuel.
A deposit of €920 per rider is payable upon booking. The remainder of the payment is due 60 days before departure, at the latest. For tours with tour prices that are less than the deposit, the full amount is due upon booking.
Our partner will be pleased to assist you with the booking of additional nights in Chiang Mai or any other services in connection with the tour.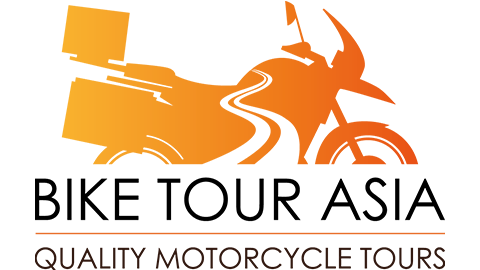 Organising partner
Our partner BIKE TOUR ASIA Limited offers unique, high quality tours in Thailand, Vietnam, Laos, Cambodia, Myanmar and China. When you book a tour through BIKE TOUR ASIA, you benefit from extensive local knowledge and expertise. Our partner offers service on the highest level and BMW motorcycles of the latest generation in best condition.
Questions or feedback?
How can we help you?
How can we get in touch?
Please enter a valid email address.
*Mandatory
Thank you for getting in touch.
We will answer your message as soon as possible.