100 Years BMW Motorrad Anniversary Tour
Experience the fascination of the time
100 Years BMW Motorrad Anniversary Tour on historical paths
Embark on an unforgettable motorbike trip through time! The 100 Years BMW Motorrad Anniversary Tour takes you along historic paths. You start in Munich at the most important places in BMW motorbike history. Experience breathtaking landscapes, fascinating passes and legendary places where history was written. Enjoy relaxing overnight stays in charming properties and let yourself be pampered with culinary delights on your journey. Back in Munich, you will look at the history of the people and machines with new eyes. Be part of this unique journey that brings the magic of BMW Motorrad to life!
---
Experience an unforgettable motorbike tour!
On the trail of BMW Motorrad
Explore historical highlights of the brand. Since the beginnings of BMW Motorrad, test rides, world record attempts and sporting successes have shaped the brand. Names like Schorsch Meier and Helmut Dähne stand for unforgettable achievements in motorsport, where they proved the reliable construction of BMW motorbikes.
Time travel through the eventful history
From test rides and world record attempts to mountain races and Alpine adventures to legendary racing events in the BMW Motorrad history of the Paris–Dakar Rally – this tour offers a unique insight into the history and success of BMW Motorrad. Be there and immerse yourself in the fascinating world of motorcycling!
Test rides and world record attempts
You start in Munich, where the history of BMW Motorrad came to life. From there, the route takes you along picturesque country roads towards Hofoldinger Forst. Along the way, you will pass places where pioneering test rides took place and world record attempts were made. These historic events have had a significant impact on the development of BMW Motorrad. Your stage ends at the charming Kirchenwirt in Leogang.
Mountain racing and Alpine riding
The second day of your motorbike tour promises lots of adrenaline and breathtaking landscapes. Set off from Leogang and make your way to the famous Grossglockner, once the scene of spectacular mountain races. Here you can feel the atmosphere of past races and become enchanted by the impressive backdrop of the Alps. After the Grossglockner you continue your ride, there are still a few curvy stretches waiting for you before you reach your destination in Gosau.
Sound of Music and Paris–Dakar
On the third day of your motorbike tour, you will dive into the fascinating world of motor sports. From Gosau you set off on the last part of the route. You pass through the picturesque landscapes of the Sound of Music and visit the legendary Bavarian motorcycle factory HPN. You will follow the path of the famous Paris–Dakar Rally, whose stories of heroics and ordeals will fascinate you. Finally, you reach the destination of your journey, the world-famous BMW Museum in Munich. A visit to the museum will allow you to experience the triumphant history of BMW Motorrad up close and be inspired by the innovations of the past.
Additional options
Additional options
You can take part in this tour with your own motorbike or select your desired motorbike from the BMW motorbike fleet of our partner. Your rented motorcycle comes with petrol and fully comprehensive insurance with an excess of EUR 1,000.
EUR 357
BMW F 750 GS, BMW F 850 GS, BMW F 900 R, BMW F 900 XR 
EUR 387
BMW R 1250 R, BMW R 1250 RS, BMW R 1250 GS, BMW R nineT
EUR 417
BMW R 1250 GS Adventure, BMW K 1600 GT/GTL, BMW R 18
EUR 400
BMW R 1250 RT
Other models available on request
The single room supplement is EUR 200

+ Read more
Your bike for the 100 Years Tour
Your bike for the 100 Years Tour
Choose your BMW motorbike from over 12 models and experience your nostalgic motorcycle journey up close and personal.
The vehicles may vary from the ones depicted, the image serves only to represent the product family.
+ Read more
"
The 100 Years BMW Motorrad Anniversary Tour is a real gem of a trip with relaxed daily stages.
"
Archie Greene
Managing Director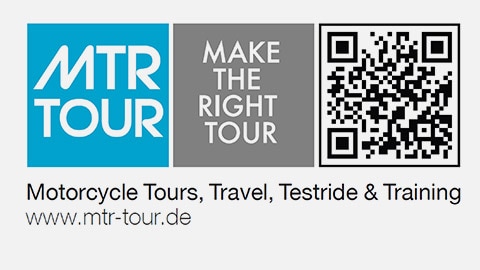 Organising partner
Our partner MTR Tour ("Make The Right Tour") not only offers trips, training and test rides, it also creates real emotions. For more than 15 years, MTR has specialised in tailor-made on and off-road tours.
Frequently asked questions
How can I book a FUEL FOR LIFE experience?
Simply send us your query through the contact form. To do this, use the "Send request now" button and enter your contact details.
In the following overview, you can select the options that best suit you from the services offered. Our partner providing the service will immediately submit an offer tailored to your wishes and will be happy to answer any further questions you may have.
Please note that submitting an enquiry to our partner does not constitute a confirmed booking. The booking will be confirmed directly between you and our partner in the next step.
Who is organising the tour?
The service is organised by our partner MTR Tour. Our partner organises the experience independently and offers it to the participants in its own name. All of the information relating to this offering, including price information, was provided by our FUEL FOR LIFE partner.
Who should I contact if I have any questions?
If you have any questions about this offer, the team of our partner MTR Tour are available to help you. You can reach our partner at the following email address: info@mtr-tour.de

We here in the team of FUEL FOR LIFE are also ready to help you at any time. You can reach us by email at the following address: fuelforlife@bmw-motorrad.com
Questions or feedback?
How can we help you?
How can we get in touch?
Please enter a valid email address.
*Mandatory
Thank you for getting in touch.
We will answer your message as soon as possible.